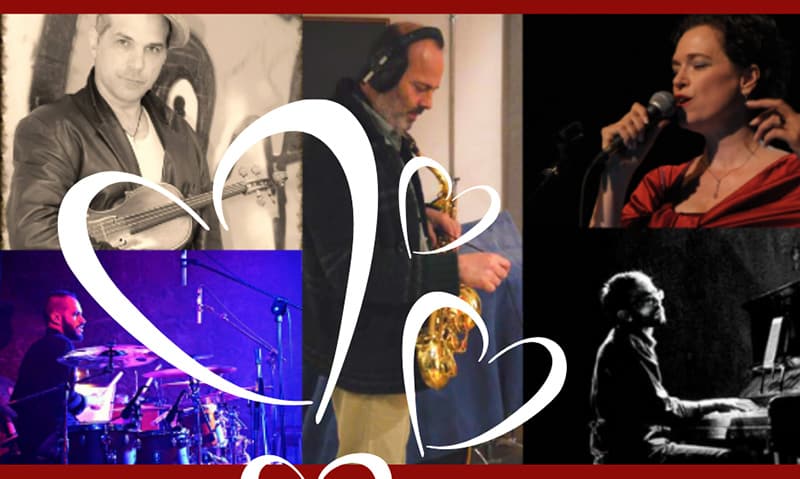 Whether you want to shy away from the universal day of love or go all out, bars, restaurants and wellness centres have a long list of choices for February 14. We're already half way through the second month of 2019 and love it or hate it, Valentine's Day will quickly be upon us.
Nicosia music lovers are spoiled for choice. Fans of blues music can choose between catching The Funked Up Project at Zaatar Foods & Arts for a more rock vibe or the soul jazz and blues night at Cellar 27 with two musicians playing international and Greek songs.
Swaying to the sound of romantic jazz, Sarah's Jazz Club has also planned an evening of music with some of "the top names on the Cypriot live music scene". The Love Sessions will be put on by Sarah and Friends, a Bohemian band formed in 2018 that will play a wide range of love songs written by some of the world's greatest songwriters including Leonard Cohen and The Beatles.
For a more upbeat night under the tunes of Greek music, well-known musician Yiannis Kotsiras will hold a concert at RED music stage at 9.30pm.
Paphos will also have love-themed music performances. At the Function Suite Bowling Alley in Polis, Tamla Motown and Northern Soul Legends will perform starring Geoff Rey, while Almyra Hotel will have an acoustic session by n2 POP duo. Anesi Restaurant in Peyia will also host a Valentine's special with Raphael, "the Prince of Soul".
But it's not all music this Valentine's Day. A ballet production of Cinderella by the Russian Ballet premiers at the Strovolos Municipal Theatre. And for those who want to indulge in the day's mood of love yet in an alternative manner, a trilingual poetry reading by five Cypriot poets will take place at the Goethe Institute. The poetry readings will be accompanied by live music from Giorgos Morfitis and the poems will be read in their original language and then translated into German.
On a completely different note and entirely irrelevant to romanticism, historian Dr. Nicholas Courreas will give a talk in English introducing his new publication 'Les Armeniens en Chypre' at the Cyprus Research Centre in Nicosia.
There are certainly more ways than one to spend this Valentine's day, so take your pick.
The Funked Up Project – The Piano Ed
Performance by rock and blues band The Funked Up Project. February 14. Zaatar Food & Art, Nicosia. 8.30pm. €5. Tel: 77776600 or 22-100785
Yiannis Kotsiras
Live concert by popular Greek singer Yiannis Kotsiras. February 14. RED Music Stage, Nicosia. 9.30pm.€20/25. Tel: 96-245929 / 99-059257
Celebrate Love at Almyra
Live performance by n2 POP (Tefkros Neocleous: vocals/guitar and George Kleanthous: keyboard) performing international and Greek love songs. February 14. Almyra Hotel, Paphos. 7pm
Soul Jazz & Blues Night Live
Live Greek and international blues music. February 14. Cellar 27, Nicosia. 9.30pm. Free. Tel: 70009054
Valentine's Day Love Sessions with Sarah and Friends
Live performance by Sarah Fenwick on Vocals, Andreas Papapetrou on Piano, Constantin Papageorgio on Violin, Achilleas Tomasidis on Saxophone and Angelos Michaeloudes on Drums. February 14. Sarah's Jazz Club, Nicosia. Tickets are EUR50 per person, including a full lover's feast buffet, quality bottle of wine (per two persons) and romantic live music. Tel: 95-147711
Tamla Motown & Northern Soul Legends
Live performance starring Geoff Rey. February 14. Function Suite Bowling Alley, Polis. €12.50, set menu available. Ticket Outlets: The Bowling Alley Polis, Tel: 96-586891
Love is in The Air
Live performance by Raphael, "the Prince of Soul". February 14. Anesi Restaurant Peyia Paphos. 6.30pm. Tickets: €27 including three course candlelit dinner (choice of menu). Tel: 99-313050, 99-380182
Cinderella
Performance by the Russian Ballet. February 14, Strovolos Municipal Theatre, Nicosia. 7.30pm. Tickets: www.atriamusic.com,www.soldoutticketbox.com, www.pattihio.com.cy
Poetry and Music on Valentine's day
Trilingual poetry reading with five Cypriot poets. Read in their original language and translated in German live. The poetry reading will be accompanied by live music by Giorgos Morfitis. February 14. Goethe-Institut Zypern, Nicosia. 7pm-9pm. Tel: 22-674608
Dr. Nicholas Courreas
Talk by the historian introducing his new publication 'Les Armeniens en Chypre'. Cyprus Research Centre, Nicosia. 7.30pm. in English. Parallel event running alongside the Book & Art fair by Moufflon Bookshop and Opus 39 Gallery. Tel: 22-665155
The post More ways than one to spend this Valentine's day appeared first on Cyprus Mail.
Article source: Cyprus-Mail – Read more..