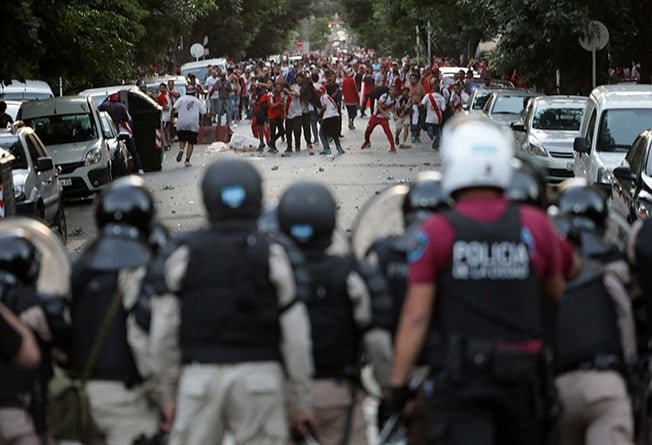 River Plate said they had rejected the decision to play the second leg of the postponed Copa Libertadores final against their neighbours and bitter rivals Boca Juniors in Madrid.
The hugely-anticipated match at River Plate's Monumental stadium in Buenos Aires was called off on Nov. 24 after Boca's team bus was attacked as it approached the ground, injuring several players.
"River Plate reject the change of venue," the club said in a statement on Saturday.
"The club understands that the decision (to play in Madrid)… adversely affects those who bought tickets and also upsets the idea of equal conditions by taking away home advantage."
However, River did not say what action they would take if the South American football confederation CONMEBOL stood by its decision to move the game to Real Madrid's Bernabeu stadium on Dec. 9.
The first leg at Boca's stadium, played without visiting River fans, ended 2-2.
River said the attack on the bus happened outside the area which was considered the club's responsibility. "The responsibility for the failure of the security operation was openly accepted by the highest authorities of the state," it said.
"It's incomprehensible that the most important fixture in Argentine football cannot take place in the country which is hosting the G20.
"Argentine football as a whole… cannot allow a handful of thugs to stop the Superclasico from taking place in our country." (
The post River Plate reject Libertadores final in Madrid appeared first on Cyprus Mail.
Article source: Cyprus-Mail – Read more..