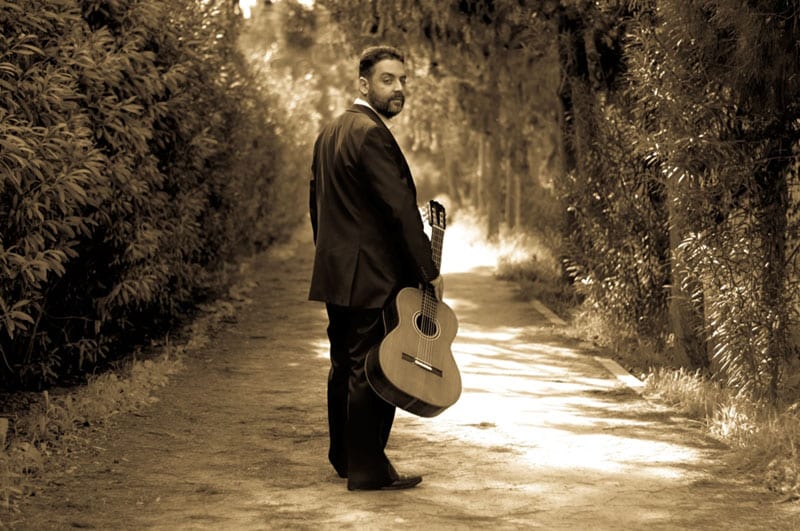 The music of composers from 14 countries will be featured at Technopolis 20's concert on Saturday night Around the World in 80 Minutes featuring guitarist and baritone Sotiris Kasparides.
The composers to be featured are Francisco Tárrega (Spain), Άstor Piazzolla (Argentina), Dimitris Fampas (Greece), Agustín Barrios Mangoré (Paraguay), Heitor Villa-Lobos (Brazil), Sotiris Kasparides and Akis Pavlou (Cyprus), Toru Takemitsu (Japan), Leo Brouwer (Cuba), Nikita Koshkin (Russia), Giuseppe Giordani (Italy), John Dowland (England), Andrew York (United States) and Roland Dyens (France). Furthermore, an arrangement from Nigeria will be heard. And all during the 80 minutes the concert is scheduled to last.
Classical guitarist, baritone and composer Kasparides was born in 1980 in Nicosia. He started guitar lessons at the age of eight and studied at University of Tennessee, USA, at Arte Music Academy, Cyprus and at Middlesex University. He also studied Byzantine music with Christodoulos Papastefanou and took part in over 50 guitar performances mainly in Cyprus but also in places such as the USA, England and Bulgaria for solo and chamber music. Since 2007, he has taught guitar at Arte Music Academy, Hellenic College of Music and the AI MusicLab. He composes for guitar and other instruments and also for small and large ensembles and short-length movies. In 2013, he composed and performed his chamber opera The Warrior's Tale and in 2017 he published the guitar book 100 Studies for Young Guitarists.
A second concert at the same venue on the following day is part of the George Georgiou and Friends concert series at 6pm.
The concert features the newly founded George Georgiou – Gergana Georgieva duo, performing masterpieces for clarinet and piano by Kovacs, Weber, Messager, Lovreglio and a world premiere by the Canadian composer Laura Pettigrew; a piece commissioned for this recital.
George Georgiou and Friends is a new concert series under the artistic direction of clarinettist Georgiou. The series aims to provide high level concerts as well as specific masterclasses in the instruments featured.
Hailed for his energetic and inspirational performances, the Cypriot clarinettist enjoys a career as a classical and contemporary musician. He has appeared in many solo concerts and recitals in Europe, the Middle East and the USA. In his research for new repertoire, George started commissioning works for clarinet and so far has collaborated with the most dominant composers in Cyprus. He holds the position of clarinet professor at the University of Nicosia.
Pianist Georgieva was born in Burgas, Bulgaria. At the age of six she took piano lessons and music theory with Isidora Silvestrova and at the age of ten was accepted at the Pancho Vladigerov music school in Burgas. During her studies, she was awarded at various seminars, concerts and competitions, including the 16th Competition for performance of Bulgarian professional music Varban Varbanov, where she won first prize. Georgieva has attended various masterclasses with distinguished pianists such as Paolo Police, Cyprien Katsaris etc. Since 2008 she has lived and worked in Cyprus, where she continues to participate in concerts and presentations in collaboration with Cypriot and foreign artists, as well as with the Cyprus Symphony Orchestra.
Around the World in 80 Minutes
Performance by guitarist and baritone Sotiris Kasparides. May 12. Technopolis 20 Cultural Centre, Paphos. 8pm. €10. Tel: 70-002420
Clarinet Recital
Recital for clarinet and piano with George Georgiou and friends. May 13. Technopolis 20 Cultural Centre, Paphos. 6pm. €10. Tel: 70-002420
The post Around the world in 80 minutes appeared first on Cyprus Mail.
Article source: Cyprus-Mail – Read more..